LOW VISCOSITY EPOXY CAN SYSTEM FOR CRACK REPAIR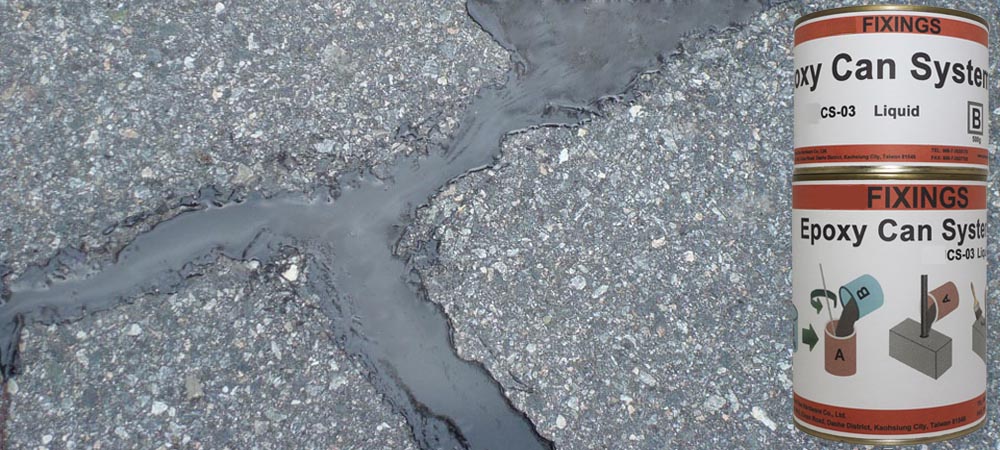 XCS-03 1:1
Concrete crack repair epoxy mixing resin
Can System Mortar XCS-03 be a high quality repair system for liquid filling and leveling equipment. The system bonds to vertical holes. it ideally suited to applications requiring superior bond strength, repairing hard-to-reach areas where a flow able epoxy is needed. Can be applied to substrates such as steel, concrete, fiberglass, wood, cement, ceramic tiles and most other building materials. XCS-03 is liquid, can be poured into vertical holes or cracks or used with a brush.
Specification of XCS-03 low viscosity epoxy can system
Material: Epoxy
Versions: XCS-03
Shelf Life: 18 months
Mixing Ratio: 1:1
Mixed Color: Gray
Standard Package: 500g(resin) + 500g(hardener) in cans
WDB epoxy resin can system provides excellent bonding strength
Styrene free and ECO friendly building material
Provide longer working time
Suitable for various applications
Superior bonding strength
Offer with economic price
Easily mixed by hand
No caulking gun required
WDB epoxy resin can system is for filling crack gap and holes
Filling in vertical holes, cracks and gaps with a brush
Fixing reinforcement bars into concrete, machine, steel construction and wooden construction
Repair crack for concrete, masonry, marble, tiles, brick
Can be used for DIY or professional applications
Reinforcing or bonding the precast concrete or structure frame
Bonding and fixing sheet metal or dry screw
Standard Packing
500g(resin) + 500g(hardener) in cans
Resin: White, Hardener: Black
WDB Label or no Label.
EXP Date on the top of cartridge.
Customized Packing.
Let us know your requirement, we'll try to save your budget and meet deadline. Please Contact Us.