HIGH VISCOSITY EPOXY CAN SYSTEM FOR REPAIR WORK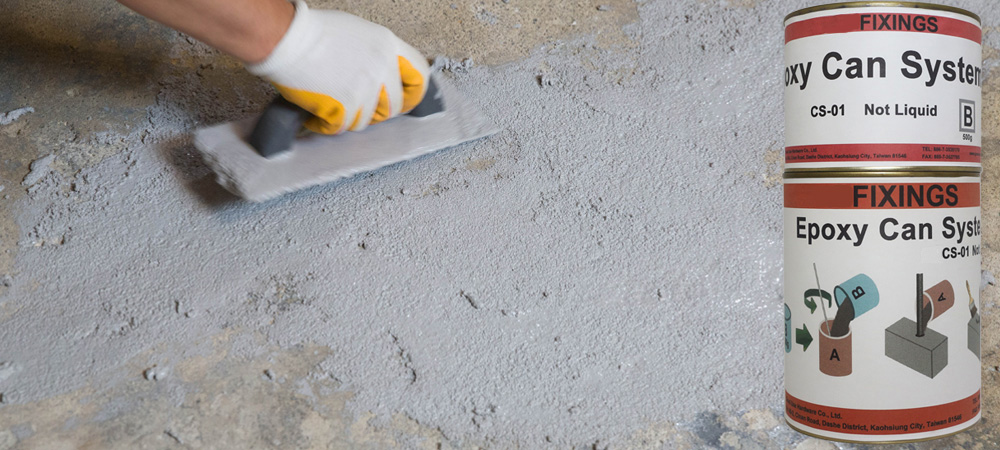 XCS-01 1:1
Two part crack epoxy repair mortar
Can System Mortar XCS-01 be a two-component epoxy based structural adhesive. The A and B can be a two-part epoxy liquid which when combined produces concretes and mortars exhibiting excellent adhesion. High bonding repair system for hard wearing areas, longer working time, no liquid. Suitable for used DIY, reconstruction corners, and horizontal condition, a wide variety of applications.
Specification of XCS-01 high viscosity epoxy can system
Material: Epoxy
Versions: XCS-01
Shelf Life: 18 months
Mixing Ratio: 1:1
Mixed Color: Gray
Standard Package: 500g(resin) + 500g(hardener) in cans
WDB epoxy resin can system is high loading adhesive
Styrene free construction material
Provide longer working time
Offer with economic price
High loading adhesive
Easily mixed by hand
Suitable for wide range applications
No caulking gun required
WDB epoxy resin can system is good for repair work
Reconstruction of edges and corners
Fixing of reinforcement bars
Fixing of wooden constructions
Fixing of machines
Fixing dry screw
Fissure filling for concrete
Repair work and fixing for tiles, brick, concrete, and steel
Can be used for DIY or professional applications
Reinforcing or bonding the precast concrete or structure frame
Bonding hanging parts for internal or external stone wall
Standard Packing
500g(resin) + 500g(hardener) in cans. Resin: White, Hardener: Black
WDB Label or no Label.
EXP Date on the top of cartridge.
Customized Packing.
Let us know your requirement, we'll try to save your budget and meet deadline. Please Contact Us.