600ML SAUSAGE SILICONE GUN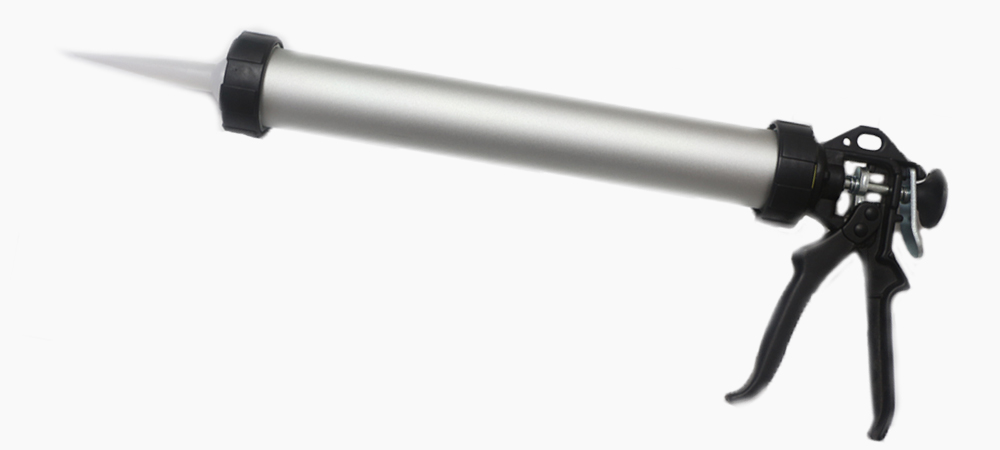 WDB-G-1021
600ml sausage sealant silicone gun
Professional grade 600ml sausage caulking gun 15 inch with smooth rod for longer dispensing tool. Aluminum alloy handle, trigger and carriage. Rotating barrel for maneuverability and easy caulk placement. Each one has a white nozzle. Use for doors and windows.
Specification of WDB-G-1021 600ml sausage silicone gun
Item No.: WDB-G-1021
Inner Diameter: 50.8mm
Outer Diameter: 53.8mm
Barrel Length: 375mm
Type: Single Component
Drive: Manual
Capacity: 300ml to 600ml
Handle: Aluminum Alloy
Trigger: Aluminum Alloy
Carriage: Aluminum Barrel
Color: Aluminum Alloy
Country of Manufacture: Taiwan
For use of non-cartridged sealant aluminum tubular sealant holder suitable for cartridged and non-cartridged sealants.
WDB-G-1021 sausage sealant silicone gun made by high quality aluminum
Steady quality with competitive price
Easy installation and operation
Energy save design
High quality for long-term using
Single Component Applicator
Hardened Pusher
Ergonomic Handle
Standard Packing
12 pcs / carton
Carton dimension: 50×28.4x31cm(H)
N.W.: 12KGS
G.W.: 13KGS
Includes 1 nozzle and push disk.
Other packing requirements, please check with us.
How to install chemical anchor?
1. Drill the specific hole size and depth. 2. Clean dust with brush and air blow pump. 3. Press out unmixed resin which can't be used. 4. Inject mixed resin into drilled hole and fill from the bottom. 5. Insert rebar/threaded rod/steel strip. Curing time refer to TDS. Don't touch until full curing. The installation process will affect the bonding performance of chemical anchors.