585ML DOUBLE TUBE GLUE GUN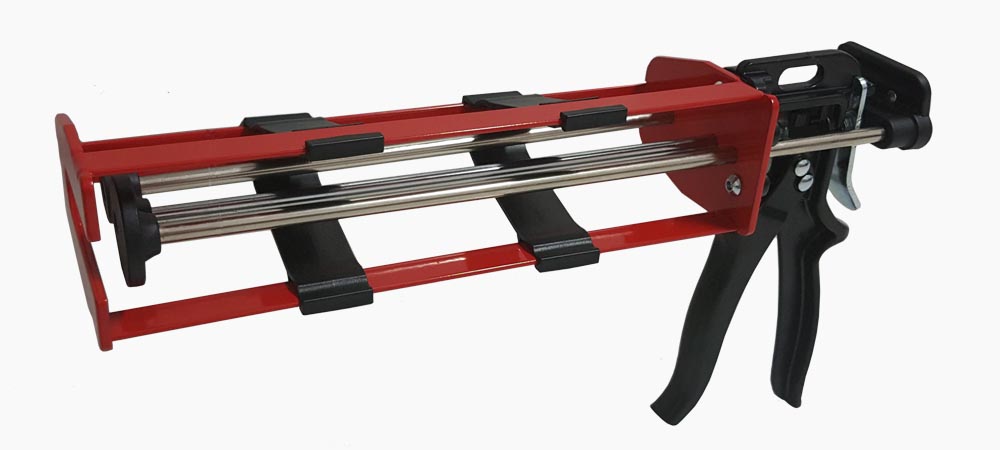 WDB-G-1020
Injection cartridge epoxy gun
Twin Component Applicator. Provide special 585ml cartridge. Handle is aluminum Alloy, trigger and carriage of metal material. Powerful gripping plate for greater durability, easy to release and high viscosity sealant.
Ratio 3:1 585ml dual component epoxy applicator
There are various dual component cartridge design in the industry. This type epoxy applicator is for 585ml and 385ml cartridge and fit most brand's cartridge.
Specification of WDB-G-1020 585ml double tube glue gun
Item No.: WDB-G-1020
For 585ml two-component injection epoxy adhesive
Color: Black/Blue/Red
Cartridge ratio: 3:1
Thrust Ratio: 26:1
Handle: Aluminum Alloy
Trigger: Metal
Carriage: Metal
Suitable for WDB 585ml cartridge of Pure Epoxy.
WDB-G-1020 injection cartridge epoxy gun with powerful gripping plate for easy caulking
Steady quality with competitive price
Easy installation and operation
Energy saving design
Twin gripping plate
Anti-drip design
Suitable for high viscosity sealant
High quality for long-term using
Press the trigger for short time pause or pulling out the steel arm
Standard Packing
10pcs per carton
Carton dimension: 42x29x38.5cm(H)
N.W.: 15KGS
G.W.: 16KGS
Other packing requirements, please check with us.
How to install chemical anchor?
1. Drill the specific hole size and depth. 2. Clean dust with brush and air blow pump. 3. Press out unmixed resin which can't be used. 4. Inject mixed resin into drilled hole and fill from the bottom. 5. Insert rebar/threaded rod/steel strip. Curing time refer to TDS. Don't touch until full curing. The installation process will affect the bonding performance of chemical anchors.