400ML DUAL COMPONENT CARTRIDGE CAULK GUN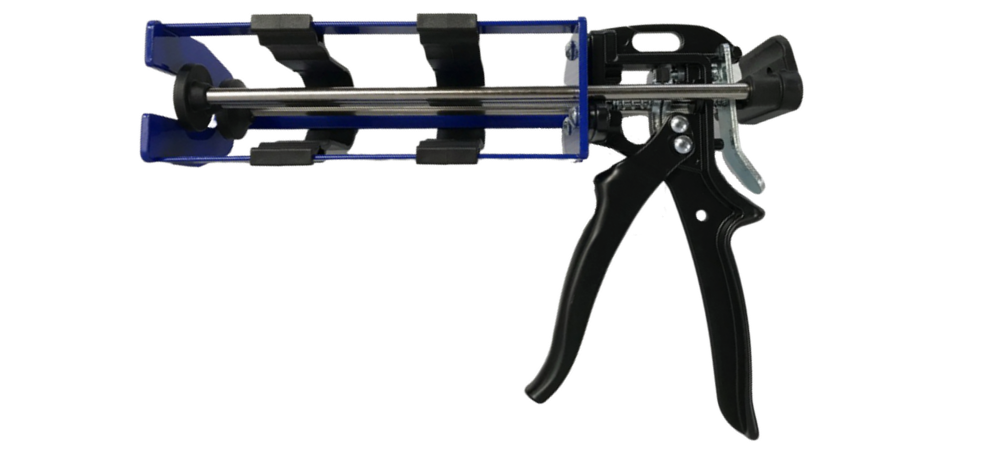 WDB-G-1015
Non-drip twin tube cartridge gun dispenser
Dripless WDB-G-1015 dual component adhesive caulking gun is special design for 400ml cartridge with 1:1 mixing ratio. Metal plunger rod and plastic plunger provide durable quality. With the ergonomic trigger, it is easy to use and produce great results. WDB-G-1015 heavy duty caulk gun is perfect for applying two component injection epoxy anchor glue.
400ml epoxy chemical anchor caulking gun
Epoxy chemical anchor mostly is with bigger volume which required heavy duty caulking gun. The caulking gun quality is crucial when the cartridge size is bigger and in cold weather application that require more energy to squeeze. A good tool is easy to use and non-drip. This type of applicator can be adjusted for ratio 1:1 and 2:1 with purchase of additional spare parts.
Specification of WDB-G-1015 400ml dual component cartridge caulk gun
Item No.: WDB-G-1015
For 400ml side by side cartridge
Color: Black/Red/Blue
Cartridge ratio: 1:1 and 2:1
Thrust Ratio: 18:1
Handle: Aluminum alloy
Trigger: Metal
Carriage: Metal
Suitable for WDB 400ml epoxy cartridge.
WDB-G-1015 twin tube cartridge gun dispenser is perfect for two component epoxy glue
Steady quality with competitive price
Easy installation and operation
Energy saving design
Twin gripping plate
Anti-drip design
Suitable for high viscosity sealant
High quality for long-term using
Press the trigger for short time pause or pulling out the steel arm
Standard Packing
10pcs per carton
Carton dimension: 35.5x29x38.5cm(H)
N.W.:13.4KGS
G.W.:14.1KGS
Other packing requirements, please check with us.
How to use a caulking gun?
1. There is a small trigger on the back of the caulking gun. Press the release trigger with your thumb. This will loosen the long steel rod that runs through the entirety of the frame. 2. Pull the plunger all the way back. 3. Remove the white cap and plug of tube and then screw the mixer nozzle on to the tube. Insert the flat end of the tube into the back of the gun first and put the tube with the mixer nozzle in the front. Pull the handle trigger to move the plungers of caulking gun. Make sure that the plungers of caulking gun are in the center of tube pistons. It is very important to put the tube in the correct position.