200ML DUAL COMPONENT ADHESIVE CARTRIDGE CAULK GUN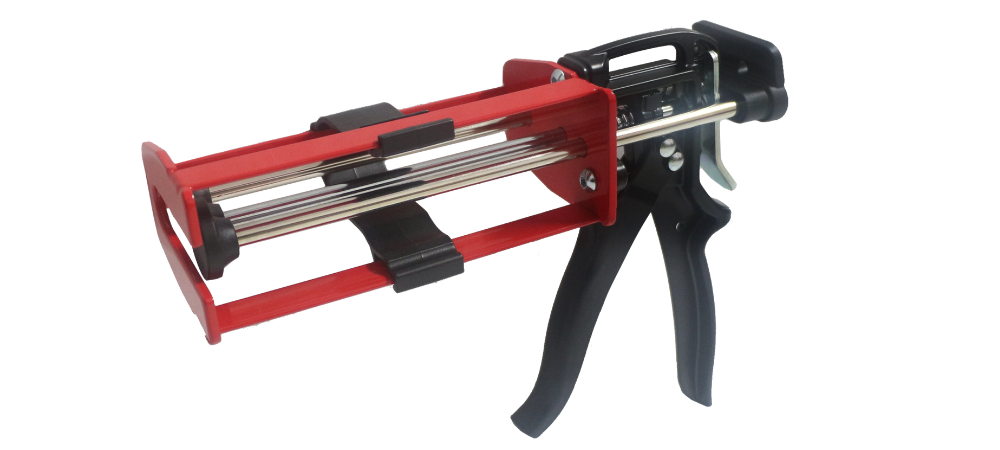 WDB-G-1014
Manual injection epoxy anchor applicator gun
WDB-G-1014 26:1 high thrust dual component cartridge gun is designed for dispensing a wide variety of 200ml bonding agents with 1:1 mixing ratio. It is made with heavy duty metal and high-level plastic; the durable quality provides long lasting use. With manual design, it is easy to use on individual repair and small area applications without extra equipment required, and the dispensing is smooth and precise. Suitable for cold weather and high viscosity materials.
Small volume manual high viscosity epoxy dispenser gun
For small or space-intensive adhesive applications, it is important to select a suitable caulking dispenser gun to maximum efficiency. This caulking gun is designed for use with small side by side cartridge. It is able to premix the two component adhesive from the cartridge and saving time and money. Most importantly, this small manual double cartridge caulk gun produces a great result even in cold weather.
Specification of WDB-G-1014 200ml dual component adhesive caulk gun
Item No.: WDB-G-1014
For 200ml side by side double component cartridge adhesive
Color: Black/Red/Blue
Adhesive mix ratio: 1:1 and 2:1
Thrust Ratio: 26:1
Handle: Aluminum alloy
Trigger: Metal
Carriage: Metal
WDB-G-1014 manual injection epoxy anchor applicator gun is designed for 200ml adhesive
Steady quality with competitive price
Easy installation and operation
Energy saving design
Twin gripping plate
Anti-drip design
Suitable for high viscosity sealant
High quality for long-term using
Press the trigger for short time pause or pulling out the steel arm
Standard Packing
10pcs per carton
Carton dimension: 29x27x38cm(H)
N.W.: 11.6KGS
G.W.: 12.1KGS
Other packing requirements, please check with us.
How to use a caulking gun?
1. There is a small trigger on the back of the caulking gun. Press the release trigger with your thumb. This will loosen the long steel rod that runs through the entirety of the frame. 2. Pull the plunger all the way back. 3. Remove the white cap and plug of tube and then screw the mixer nozzle on to the tube. Insert the flat end of the tube into the back of the gun first and put the tube with the mixer nozzle in the front. Pull the handle trigger to move the plungers of caulking gun. Make sure that the plungers of caulking gun are in the center of tube pistons. It is very important to put the tube in the correct position.