150ML CHEMICAL ANCHORS SERIES
150ml is special for DIY household and hardware fastener store. Small volume for one-time disposable using and no special gun required. Used with normal silicon gun.
Ideally suited for medium load applications, the fastening strength is stronger than the base material itself and as the system is based on chemical adhesion, no load stress is imparted to the base material. Ideal for close to edge fixing, reduced center and group anchoring, fixing machines, threaded studs and handrails, etc.
Specification
Material: Polyester with styrene (Shelf life: 12 months)
Material: Epoxy Acrylate with styrene (Shelf life: 18 months)
Material: Vinylester styrene free (Shelf life: 18 months)
Size: 150ml
Mixing ratio: 10:1
Mixed color: Gray
Standard package: One cartridge with one mixer and plunger
Features & Benefits
Available for Polyester, Epoxy Acrylate, Vinylester.
Used with normal silicon gun. No extra gun needed.
Small volume for hardware store.
Completed mixture.
Low levels of volatile organic compounds (VOC's) according to LEED test.
Ideal for small consumption, close to edge fixing, threaded studs, etc.
Fixing onto solid bases
Concrete
Marble / Reconstituted stone
Rock / Stone
Hollow brick / Solid masonry
Solid brick / Solid block
Sand lime brick
Perforated slab
Where Chemical Anchor used for?
Steel dowels
Staircases
Hand rails
Facade
Sound barriers
Pipelines
Awnings
Steel brackets
Consoles
Bridge beams
Installation Guide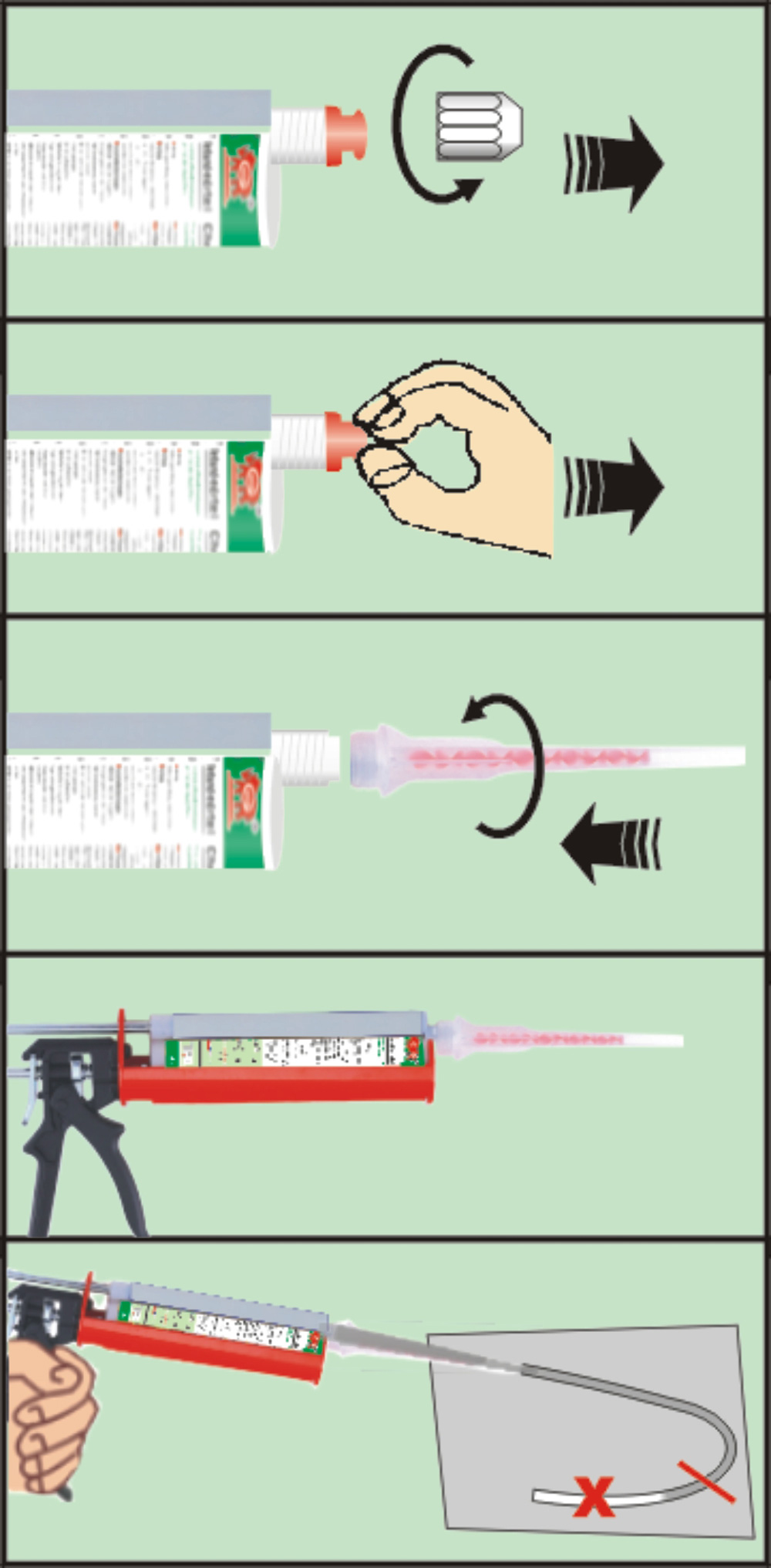 Application & Technical Dimension

Drill correct hole size and depth.
Blow out dust.
Clean the hole with brush.
Blow out remaining dust.
Inject adhesive from the bottom.
Insert into the hole.
Wait for few minutes. The steel and concrete will bond very firmly.